The 2023 programme of activities promises to be an important step towards realising the objectives set out in the Cadiz Action Plan, adopted at the 6th Ministerial Conference of the Rabat Process in December 2022. The activities will take place as part of Morocco's Chairmanship of the Dialogue in 2023.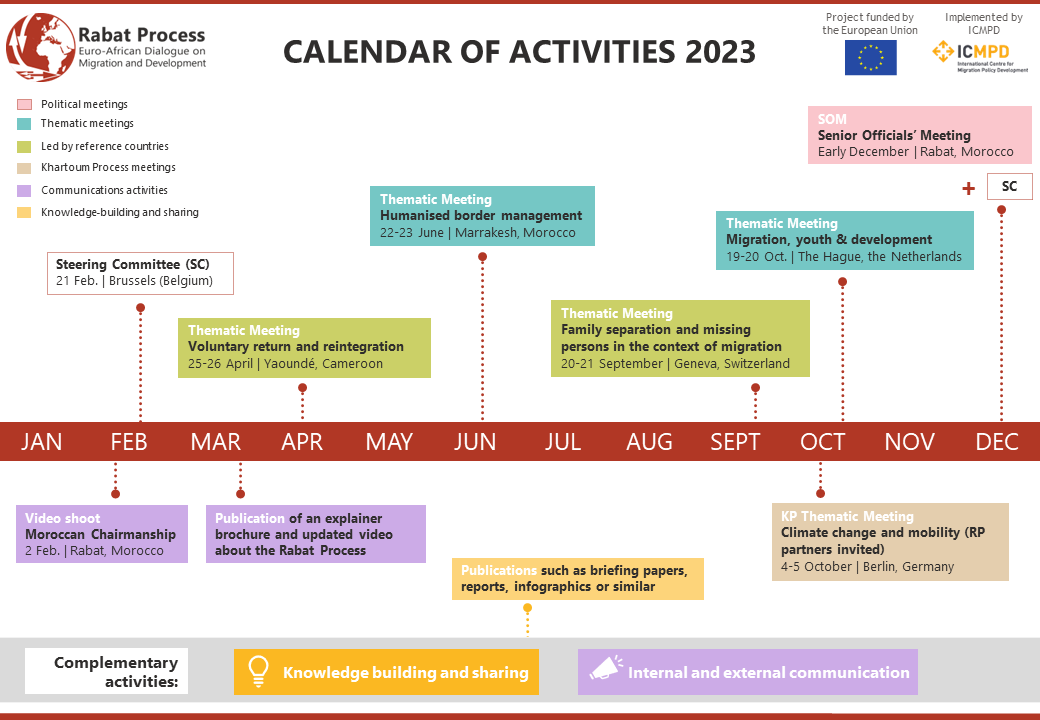 This work-plan is tentative and subject to changes over the course of the year.
Four thematic meetings and a joint meeting with the Khartoum Process, a Senior Officials' Meeting (SOM) and three meetings of the Steering Committee are foreseen for 2023:
This year's programme will start out with a thematic meeting on voluntary return and reintegration, taking place in Yaoundé, Cameroon, on 25-26 April. Next up will be a meeting on humanised border management in Marrakesh, Morocco, on 22-23 June. In the second half of the year, a thematic meeting on family separation and missing persons in the context of migration (prevention, tracing and reunification)  will be hosted by Switzerland on 20-21 September in Geneva, and another thematic meeting on migration, youth and development is foreseen to take place on 19-20 October in the Hague, the Netherlands. Rabat Process partners will also be invited to attend a thematic meeting organised by the Khartoum Process on climate change and mobility in Berlin, Germany, on 3-5 October. In December, a Senior Officials' Meeting in Rabat, Morocco, will provide a forum to be attended by high-level officials of the partner countries and organisations of the Rabat Process.
In addition to the meeting programme, the Rabat Process will also carry out a range of communications and knowledge-building activities. These will include the publication of a new brochure and video about the Rabat Process, and continuous communication through Twitter and LinkedIn.