The signing ceremony of a partnership programme between the International Centre for Migration Policy Development (ICMPD) and the French Ministry for Europe and Foreign Affairs (MEAE) took place on 14th September 2021 in Paris. The partnership programme was drawn up to further develop and strengthen the signatories' long-standing partnership and institutionalise cooperation in the area of migration governance in a spirit of partnership and mutual trust, in order to create synergies between the activities of the signatories.
Successful collaboration since 2010
Cooperation between ICMPD and the MEAE has progressively developed since 2010, as manifested by the successful collaboration in the migration dialogues such as the Intergovernmental Euro-African Dialogue on Migration and Development (the Rabat Process), especially during the French Chairmanship of the Process (2019-2020), or EUROMED Migration. Furthermore, ICMPD and the MEAE also collaborated on other regional and bilateral projects and joint activities in the past, such as Strengthening African and Middle Eastern Diaspora Policy through South-South Exchange (AMEDIP) or Interactive Map on Migration (i-Map), that provide comprehensive responses in migration and particularly in migration and development.
Focus areas of the partnership programme
In future, according to the partnership programme, the collaboration between ICMPD and the MEAE may evolve in three areas: research and policy, capacity-development and migration dialogues. Their principal thematic areas of cooperation may be, inter alia,
migration and development and policies related to these topics;
mobility and legal migration;
diaspora outreach and development;
social cohesion;
other topics of mutual interest and within the scope of individual competences of the Signatories, such as migration narratives.
The partnership programme was signed by Michael Spindelegger, Director General of ICMPD, and Cyrille Pierre, Deputy Director of the General Directorate for Globalisation, Culture, Education and International Development of the MEAE.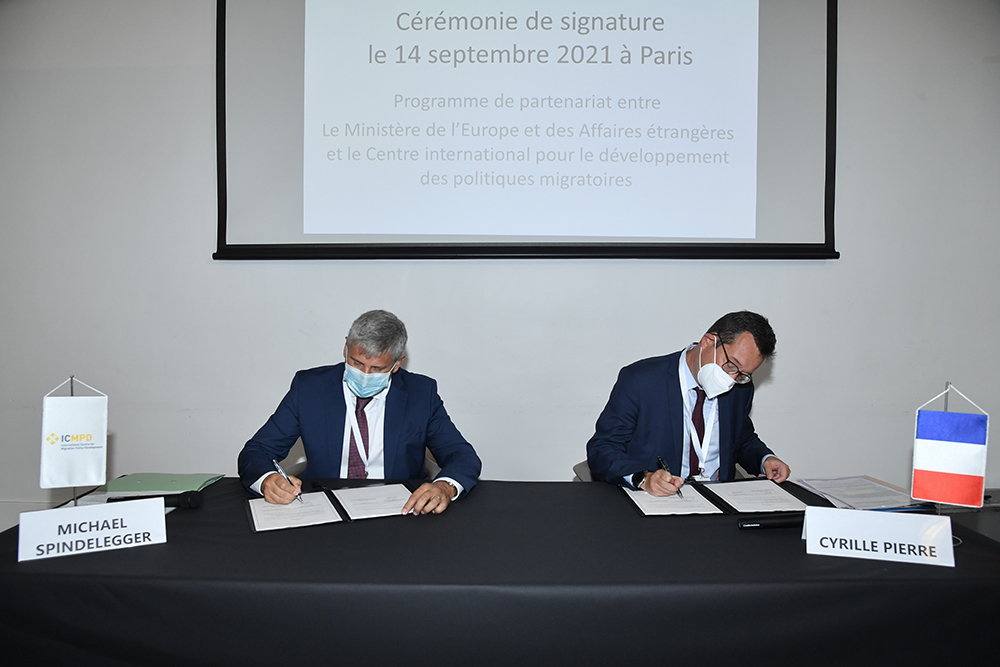 Photo: Xavier Granet