The International Centre for Migration Policy Development (ICMPD), which implements the Rabat Process Secretariat, signed a Memorandum of Understanding (MoU) with the Mixed Migration Centre (MMC) on 19 November 2020. The signing ceremony took place in a virtual meeting.
MMC is part of the Danish Refugee Council (DRC) and a leading source for data, research and analysis on mixed migration. This step will contribute to strengthening the ongoing cooperation between the two organisations and the projects they implement.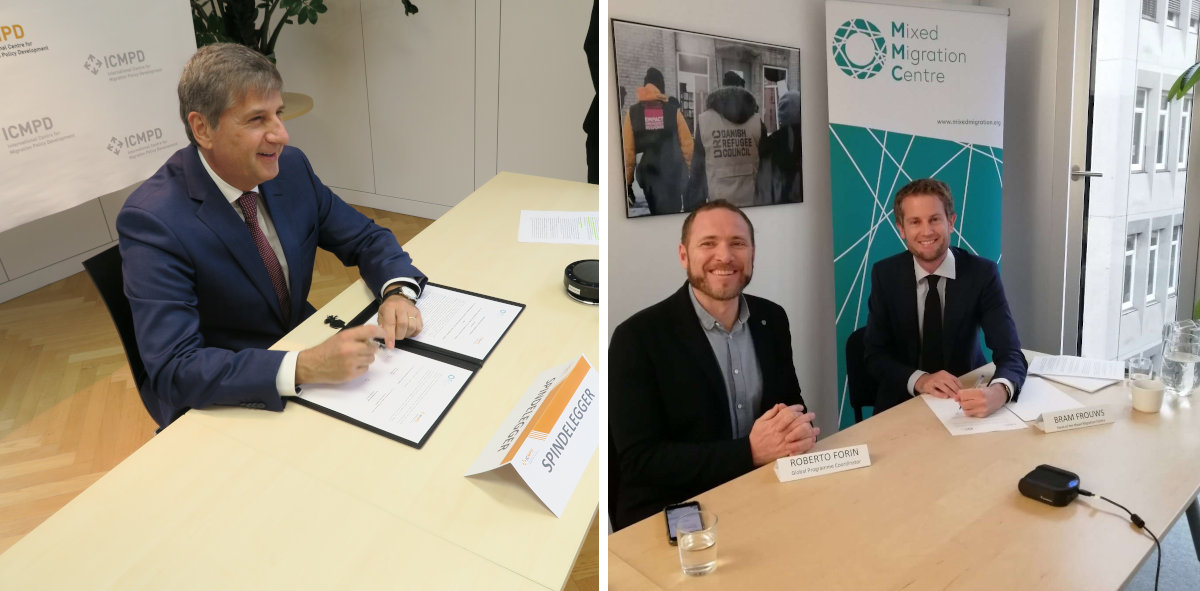 The purpose of the MoU is to deepen relations, promote strategic partnership and enhance the effective cooperation on policy and operational levels. It shall also facilitate information exchange and the realisation of jointly implemented programmes and projects. More specifically, cooperation between ICMPD and MMC shall evolve in three areas: research and policy, capacity-building and migration dialogues.
"The MoU between the Mixed Migration Centre and ICMPD is a big step which will allow us to cooperate more closely and continue the fruitful collaboration started in the framework of the Rabat Process and the Khartoum Process", stated ICMPD's Director General, Michael Spindelegger, during the signing ceremony.
"Cooperation with ICMPD will allow us to bring the voices of migrants and refugees to the policy table", said Bram Frouws, Head of the Mixed Migration Centre, at the signing ceremony today.
ICMPD will also join the group of Friends of MMC, which is an informal advisory group that meets once a year to reflect on MMC's work. Current members include OHCHR, IOM, UNHCR, DRC, DEVCO, and others.
The partnership between ICMPD and the MMC has progressively developed since 2018. The Rabat Process Secretariat has spearheaded the successful collaboration between the two organisations with a joint workshop on mixed migration in October 2019 and studies on urban migration in Bamako and Tunis. MMC and the Rabat Process Secretariat will continue to work together on policy briefs and workshops.
Consult the calendar for the most recent programme: