African countries are rapidly urbanising. What are the experiences of migrants moving to, through and from cities in West and North Africa?
In a context of continuing urbanisation, the future of migration will be increasingly shaped by how local authorities and cities address the issue. This paper focuses on the role of cities in migration journeys, from origin to transit to destination, offering insights into the experiences of people on the move in West and North Africa, with particular focus on youth and children. The aim of this paper is to raise awareness and strengthen policymakers' understanding of the urban reality of mixed migration in West and North Africa, whilst exploring policy options and encouraging debate - with the voices of refugees and migrants at the centre.
This briefing paper is the third in a series of four papers that the Mixed Migration Centre (MMC) will be publishing in 2021/22 as part of a collaboration with the Rabat Process Secretariat and ICMPD. It is grounded in existing literature and 4mi data, MMC's primary data collection system that collects comparable quantitative data on mixed migration. The present briefing paper draws on a range of different 4Mi datasets, collected in between September 2019 and June 2021 in West, Central and North Africa.
Mixed migration briefing papers 2021/22 in collaboration with MMC
Context: Urban Migration, cities and the Rabat Process
Local governments are increasingly being recognised as integral stakeholders in migration policymaking and implementation, also within the Rabat Process. One of the crosscutting priorities of the current strategic framework, the Marrakesh Action Plan, is an "inclusive and multi-stakeholder" approach to migration management. The Rabat Process' partners thereby agreed on the importance of involving all relevant actors in the different aspects of migration management, including national and local level authorities. A thematic meeting entitled "National authorities, local authorities and migration" was convened in Paris in mid-September 2021, bringing together local and national authorities from Africa and Europe to discuss different ways in which local and national authorities can work together to better coordinate on migration including through shared governance.
Main findings: cities are key destinations
Cities are key destinations for internally displaced, international refugees and migrants, whether for permanent residence, temporary settlement, or short-term transit. The following key findings emerge from the analysis:
Urban origins: For West African 4Mi respondents, cities are a springboard for international migration; those leaving from urban areas often have a higher level of education, access to more information, and more resources to finance their own journeys.
Urban transit: Transit cities play different roles: they can be places to find work, to rest, or to arrange the next leg of the journey, including through smugglers. In some instances, transit cities become de facto destinations.
Urban living: Cities, while providing a wide range of economic opportunities, are also expensive places to live in and the decision to establish oneself there is often a worthwhile but also risky investment. Age impacts upon refugees' and migrants' decision-making processes, as well as the opportunities and vulnerabilities they face in cities.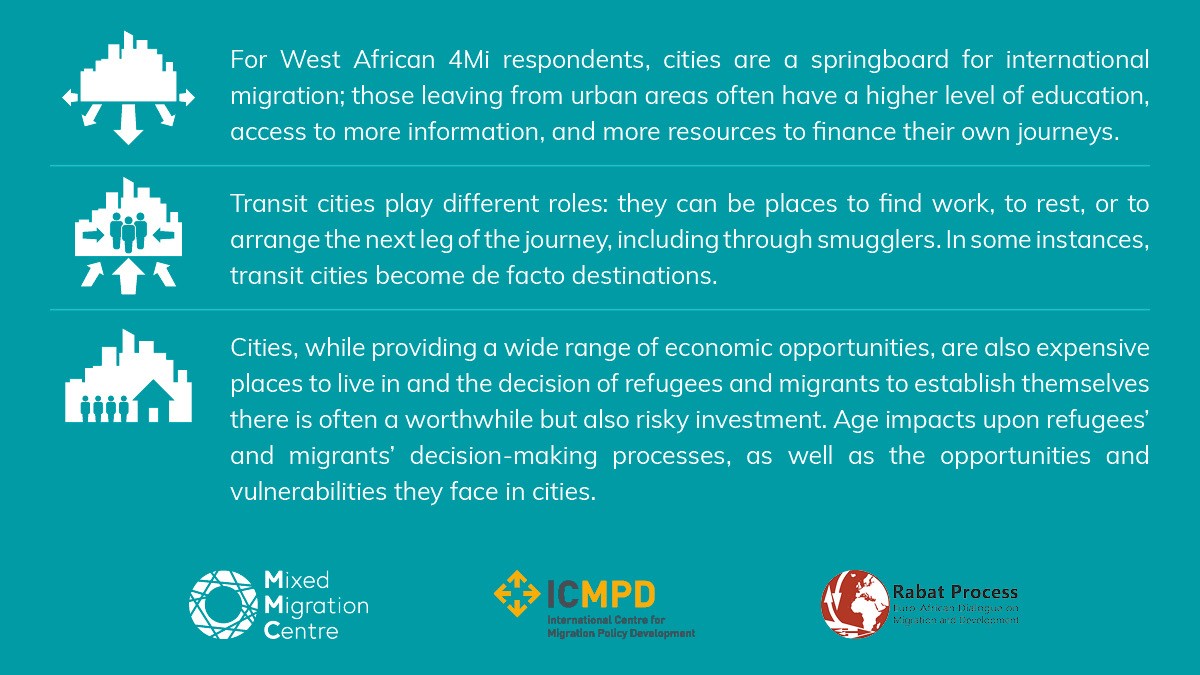 Download briefing paper: