Diasporas worldwide make significant contributions to economic, social and cultural development in their countries of origin. It is therefore no surprise that Rabat Process ministers outlined in the Marrakesh Action Plan 2018-2020 their desire to enhance their knowledge of their diasporas and to strengthen their economic, social and cultural development contributions. With the "Collection of Diaspora Engagement Practices", the Rabat Process Secretariat addresses this objective.
Extensive mapping to create a concise collection
This new publication is the fruit of an extensive mapping of recent innovative diaspora engagement policies, programmes and projects by a team of experts from all regions of the Rabat Process. These efforts have been directed by the Rabat Process Secretariat, implemented by the International Centre for Migration Policy Development (ICMPD). The Collection consolidates ICMPD's previous research on diaspora engagement, while drawing on literature produced by governments, international organisations and civil society. It condenses this wide-ranging body of research into a concise Collection aimed specifically at Rabat Process partner governments, whilst relevant to a much wider range of stakeholders.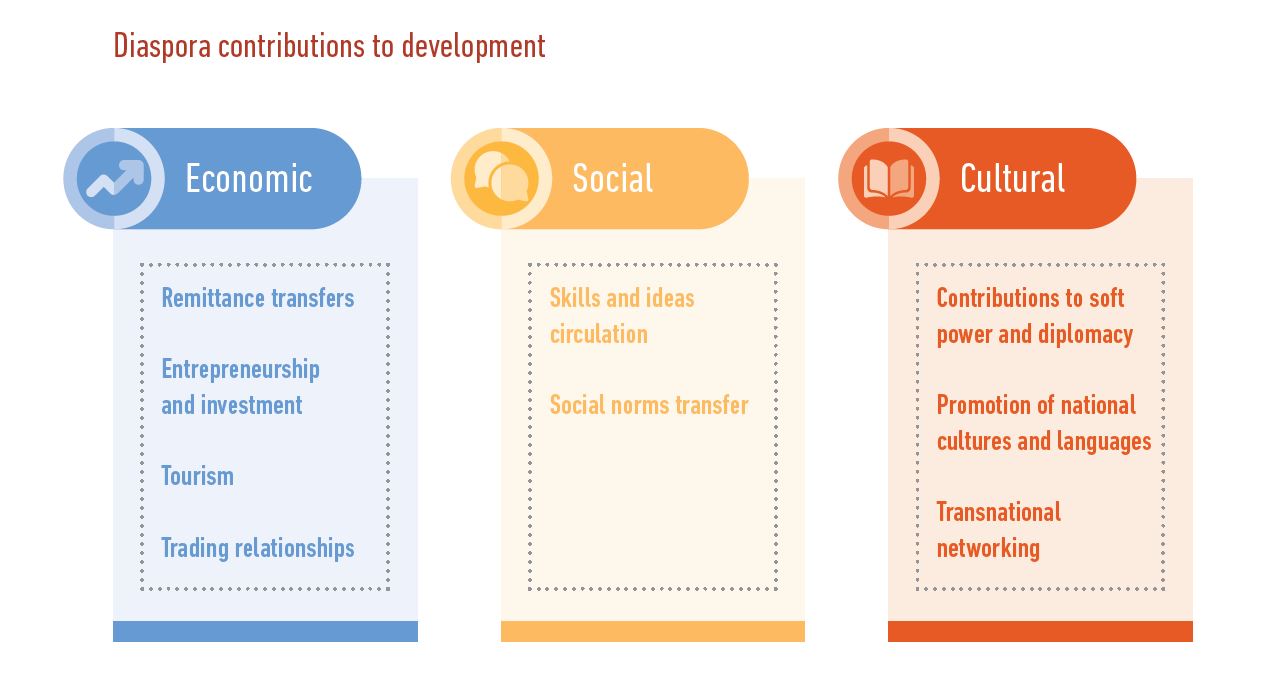 Strategic guidance and innovative approaches
The Collection provides guidance at the strategic level on how to maximise the diaspora's economic, social and cultural development contributions, punctuated with concrete examples of initiatives from across the Rabat Process and beyond. In addition, this Collection sheds light upon new and exciting trends in the field of diaspora engagement. It looks at how innovations in crowdfunding, blockchain, and mobile telephony are transforming the landscape of diaspora remittances and investments; how some partner governments have decentralised their engagement activities; or how diaspora engagement can take a segmented approach to reach different generations, as well as the diaspora "elites" and "champions" who can often make the biggest contributions.
Whom is this publication for?
The Collection has been developed for diaspora engagement policymakers and practitioners in Rabat Process partner countries but may also be of interest to other stakeholders working on migration and diaspora engagement.
How to use this publication?
This publication is divided thematically and mainly focuses on the economic, social and cultural development contributions of Diasporas. Each of these sections provides an overview of:
Key issues ("what's at stake?");
Innovative initiatives (factsheets on specific initiatives);
Other policies and initiatives ("options to enhance diaspora engagement").
In addition, guidance on how to develop policy frameworks, get to know and build trust with diasporas is outlined at the end of the Collection. Getting these cross-cutting aspects right is vital to enabling the initiatives shared throughout the publication.
Download: Collection of Diaspora Engagement practices, Rabat Process Secretariat 2020.